---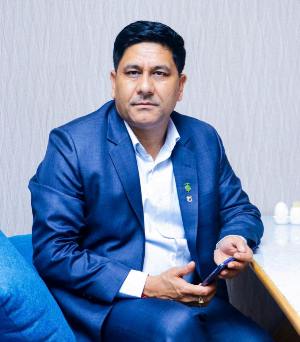 Mr. Khum Bahadur Subedi – After completing Bachelor of Humanities, Khum Bdr. Subedi, presently the director at Unique Adventure International Pvt. Ltd decided to craft career in tourism sector. Born on 18th June 1972, Bagmati Zone, Dhading district, Chainpur VDC, Sunkhani Village, Subedi has worked as a trekking guide in between 1994 – 1998. Plus, he has operated trekking finance in between1997 – 2000. He has involved as an executive member in Trekking Agencies Association of Nepal (TAAN) from 2007 to 2009, Treasure from 2009 to 2011, Senior Vice President from 2017 to 2019 and been elected as President from 2019 to 2021. Regarding the spots he has trekked, Manaslu High Camp (6300), Annapurna Foothills (Ghorepani – Poon Hill 3200m), Annapurna Base Camp (4200m), Upper Mustang – Lo Manthang (3900m), Langtang or Kyanjin Valley (4000m),Everest Trekking (5200m), Tibet or Lhasa Overland Tour (4400m) and many more are the trekking areas he has strolled on. Likewise, he has travelled destination like USA, UK, Scotland, Japan, Netherlands, Belgium, Germany, Spain, Thailand, China, Hong Kong, India etc.
Besides, he has participated in International Travel Fair like: WTM world travel fair London 2010 and 2011; FITUR Travel Fair in 2011 in Spain; Adventure Travel Mart in Los Angeles 2011, India International Travel Mart in India, Pune 2012. Additionally, Subedi has published books like- Padyatraka Paailaaharu (Footprints on the trail), Belgium Kaa Kshenharu (Moments of Belgium) and the like. Furthermore, Tourism Journalists published numerous of tourism related articles published different daily, weekly and monthly newspaper of Nepal. Subedi has been awarded with Media International Business Award-2013, Gantabya Nepal Publication p.ltd. Business Award 2010, Hatemalo Media business Award, 2009, Simple arts business Award 2010, Capital Event award 2071 and many appreciation letter for the Business.
Since 1997 Khum Bdr. Subedi owns the Unique Adventure International which is well set with modern tools, transport system and qualified staffs to all kinds of tourists having diverse tastes and nature. It for all time takes care of our customers and work for satisfying the needs and interest for the customers.