Overview
Get blessed to have the memories of Everest in one of your travel diaries.
Imagine you are sitting in your armchair and sharing your intrepid travel tales with your grandchildren! Above all, you share them the stories of how you met Sherpa at their own abode and the stories that you had left your footprints at the base camp of the world's tallest mountain Mt. Everest (8848 m).
Yes, Unique Adventure International presents an awesome trekking package in the form of Everest Base Camp Trek. Fulfill your wish of seeing such an iconic mountain very close and exploring the home of expert mountaineers the Sherpa people. It would be an exhilarating journey that you have ever done with our seasoned veterans of Nepal Trekking.
A journey of Everest Base Camp Trek starts with equally remarkable as it ends once you have reached the base camp. Lukla Airport also named as Tenzing Hillary Airport is the world's most extreme airstrip which is the gateway to the great Khumbu region of Nepal. Once trekkers land at this thrilling airfield our guides will get you introduced with rest of the crew members and Sherpa. The journey takes a twist and turns through hamlets and streams to Phakding the first camp of this legendary trekking in Nepal. Get used to the Sound of Dudhkoshi River and chilled mountain air as you will experience more as you trek higher.
Hamlets of Benkar and Manjo pave way for trekkers to reach Sherpa heartland the Namche Bazaar. Suspension bridges and the entrance of Sagarmatha National Park are the highlights before reaching the Namche. The first sight of Mt. Everest as seen moments before you reach Namche would showcase you the final destination. This marketplace of Khumbu is an epicenter of Khumbu civilization. The valley depends on this market and what it offers. Get an amazing view of Kwangde and Thamserku from your room window. During high altitude trekking proper acclimatization is crucial for success and henceforth you will be resting one more day in Namche doing hiking of Everest View Hotel before ascending further.
Everest View Hotel journey offers panoramic mountain vistas of like Amadablam, Lhotse, Nuptse, Tabuche, Everest and many others. Khumbu landscape comprising of hills, alpine forests and Himalayan range in backdrop really treat you well. Journey then heads to the spiritual hilltop town of Tengboche. Uphill and downhill along with Nepalese style flatland on hills are covered before reaching this place famous for a monastery. Iconic Dingboche Valley and Dudhkoshi Valley as seen on either side of hilltop along with distinct picture of Amadablam really bring passion inside you. As days pass by trekkers will again take another acclimatization break at Dingboche by walking to Nagarshan hill or Chhukung Valley.
Walking through moraines alongside the great Khumbu glacier trekker trek past Lobuche further towards Gorakshep. This is the last village on the trail of Everest Base Camp Trek. The sight of Lobuche, Pumori, Cholatse, and Mt. Everest itself will be your usual sight. The feeling of being at the place where once Sir Edmund and Norgay stepped on before embarking for the successful ascent of Mt. Everest is not an ordinary achievement.
After the Everest Base Camp (5364 m) journey taking early morning hike of Kalapathar for morning sunrise top all the adventure of walking holiday in Nepal or world. Gaze at all the scintillating Himalayas during morning rays of the sun from Kalapathar (5545 m).
The trip heads back to Lukla following the same trail or via Pheriche for the flight back to Kathmandu.
Book the Everest Base Camp Trek with pioneer of trekking organization in Nepal the Unique Adventure International. We have locals, Sherpa and guides who have been to this part of Khumbu for uncountable times. Safety, Services and Information are our high priority. Get blessed to have the memories of Everest in one of your travel diaries.
Itinerary Details
Day 01: Meeting upon arrival at Kathmandu International airport by our representative, transfer to hotel.
Rest of the day at leisure.
Day 02: Sightseeing around Kathmandu valley, overnight at hotel
Today, you will visit the cultural and historical sights in Kathmandu valley including Swoyambhunath, which is said to be over 2,000 years old and one of the world's most fabulous Buddhists Stupas; Kathmandu Durbar Square; the temple of Kumari - the residence of living goddess with its wooden carved window and balconies; Kasthamandap--a pagoda temple believed to have been built from the timbers of a single tree by King Laxmi Narsingh Malla; Patan City is known as the 'Town with a thousand Roofs'. You will visit the Durbar Square, the Royal Baths, and Hiranyabarna Mahavihara Temple. Noted for its craftsman and metal workers, Patan is known as the city of artists.
Day 03: Fly to Lukla (2800meters) and start trek to Phakding (2610meters), overnight at guesthouse
Transfer to airport to connect 30-minutes flight to Lukla. The trek begins gently up by the riverside, along excellent paved footpaths, passing a multitude of teahouses and scattered green conifers. Phakding at 2,610meters is a pretty village comprising approximately 30 houses. It is roughly a 3-hour walk from Lukla and is located at both sides of Dudh Koshi River.
Day 04: Trek to Namche Bazaar (gateway to Mt. Everest - 3440meters), overnight at guesthouse
The day will begin with the gentle walk to Monjo, another beautiful Sherpa settlement of the trek; official entry into the Sagarmatha National Park where you will have to show your permits (SNP entry permit and TIMS card)at the office in Monjo. The walk to Namche Bazaar involves a tough uphill climb of about 590m, taking approximately 5-hours, however, halfway up the hill, you will be able to see Everest and Lhotse for the first time. As you approach the town of Namche Bazaar, the peaks of Thamserku (6, 648) and Kwangde (6,224m) are visible to the East and to the West, the sacred mountain Khumbila (5,707m).

As a gateway to the Khumbu region, Namche Bazaar, at an altitude of 3440meters, is famous for its many bakeries and local market (haat bazaar) which takes place each Saturday. Built on a steep mountain bowl with excellent views of high Himalayas on either side, the town has restaurants, shops, banks, and currency exchange. Remarkably, for such a remote location, there is also the availability of cyber cafes and pool halls.
Day 05: Rest at Namche Bazaar for acclimatization, overnight at guesthouse
It is important to walk to higher altitudes while you stay two days in Namche bazaar. There are options here either to trek to Khumjung where you can visit the local school and hospital or to Thame village of Sherpa Everest expediters and of the great Everest Sherpa Tenzing Norgay or to airstrip at Shyanboche (3720m), above the airstrip is the Everest view hotel, which was set up by the Japanese to bring affluent tourists into the region for a prime view of Everest. The scheme was brought down by the fact that the hotel was at nearly 4000m and many suffer from altitude sickness.
Day 06: Trek to Tengboche, overnight at guesthouse
The day begins with a slight climb up about 10-minutes and descends back to the Dudh Koshi at 3550m before ascending to Tyangboche at 3870meters. The views of Everest, Thamserku, Amadablam and the valley are mind-blowing. At an altitude of 3870meters; Tengboche is a charming spot built around the main Tibetan monastery in the region where you can enter and listen to the monks chanting their mantras. The view of Lhotse, Everest, and Amadablam are unforgettable.
Day 07: Trek to Dingboche (4360meters), overnight at guesthouse
Your journey will pass through wooded forests and along the Imja Khola valley. The views will become more impressive as the high Himalayas begin to surround you. You will contour gradually to Pangboche, an interesting gompa site above the main village, this is the oldest monastery in the region and apparently dates from the introduction of Buddhism to Khumbu. You will then climb up to Dingboche at 4360meters. The views of Amadablam and Island Peak are breathtaking.
Day 08: Rest at Dingboche (day hike to Chhukung), overnight at guesthouse
Today, we will have another day for acclimatization. You will head to another beautiful part of the Khumbu region, Chhukung which offers you a magnificent view of the Mt. Makalu, Island Peak, Peak 38, etc.
Day 09: Trek to Lobuche (4950meters), overnight at a guesthouse
The valley now becomes barren as you walk up towards Lobuche, but your attention will be firmly on the snow-capped peaks, which soar above you. The path joins the trail below Thugla and gives beautiful views of Cholatse (6442.) across the valley. The path can become quite rocky in places and it is important to watch your step. After another steep ascent, Tawache and Nuptse are particularly spectacular form Lobuche, towering almost 2 kilometers directly overhead.
Day 10: Trek to Everest Base Camp (5400meters) and back to Gorakshep (5160meters), overnight at a guest house
Today, the walk towards Everest is along the Khumbu Glacier. You will reach the small village of Gorakshep, where you will be able to have lunch. After having your lunch, the trail will lead you to the Mt. Everest base camp at an altitude of 5400meters. Everest base camp gives you an unforgettable view of Khubutse, Mt. Pumori, Changtse and Khumbu ice fall instead of Mt. Everest.
Day 11: Trek to Kalapatthar (5545meters) and back to Lobuche, overnight at a guest house
The ascent of Kalapatthar or 'Black Rock' will offer the best view of Everest. At the top, you will see a 360-degree view of some of the highest peaks in the world including Mt. Pumori (7169m), Mt. Everest (8848m) and Lhotse (8516m), the Tibetan peak Changtse, Nuptse (7861m) and countless other smaller peaks. You will then descend and return to Lobuche and retrace your steps to Lukla.
Day 12: Trek to Tengboche, overnight at guesthouse
You will now follow your footsteps back to Lukla. The walk to Tengboche via Dingboche and Paboche will offer spectacular views of Amadablam, Mt Lhotse and others Himalayas. You will travel through the rhododendron forest, across Imja Khola and meet several monasteries on the way.
Day 13: Trek to Namche Bazaar, overnight at a guesthouse
Trekking down the hills, you will reach Phungi Tenga and follow the way across the Dudh Koshi river walking along the pine forest. You will reach Sansa and then Kyanhjuma taking after the trail to finally end the day at Namche Bazaar.
Day 14: Trek to Lukla, overnight at a guest house
You will be continuing the trail taking after the Sherpa village and following the Tenzing and Hillary suspension bridge. After a day-long descend, you will finally be at Lukla for the overnight stay.
Day 15: Fly back to Kathmandu, transfer to hotel
You will book an early morning flight from Lukla to Kathmandu. Leaving Tenzing and Hillary airport, you will fly over the clouds and enjoying the mesmerizing view of the Khumbu region. After you land in Kathmandu, you will check into the hotel and spend the remaining of the day visiting around or relaxing.
Day 16: Free day at Kathmandu, overnight at hotel
You can organize this as per your like. You can go for a visit around the UNESCO heritages like Pashupatinath, Swoyambhunath, Bouddhanath, etc. and Bhaktapur Durbar Square as well. You can also wander around Thamel to buy souvenirs for your loved and near ones.
Day 17: Transfer to airport, departure on your own destination
You will finally leave Nepal after a significant visit around the Everest region. Our representatives will drop you off at the airport and bid you farewell.
Trip Inclusion
What is included?
Airport pick up and drop off, upon arrival and departure in Kathmandu (International and domestic both).
Pre-trek briefing.
Hotel accommodation in Kathmandu with breakfast as per the programme.
1 professional and friendly, A class government licensed and well English speaking mountain guide.
1 well experienced English speaking assistant guide if the group size exceeds 5+ persons.
Well experienced and equipped trekking porter/s (one porter carry for 2 guest's luggage, 25 kgs - 30kgs).
Food during the trek (full board with breakfast, lunch and dinner with tea/coffee and seasonal fresh fruits).
Guesthouse accommodation during the trek.
All necessary trekking permits: Sagarmatha National Park and Trekkers' Information Management System (TIMS) fee.
Internal flight Kathmandu - Lukla - Kathmandu for guest and guide inclusive with all taxes and transfers.
In worst case, assist with all rescue and evacuation arrangements.
Unique Adventure sleeping bag and down jacket, duffel bag, area trekking map.
First aid medical kit, Oxymeter to check pulse, heart rate and oxygen saturation at higher altitude.
All applicable taxes as per the government rules and regulations.
All organisational requirements.
What is not included?
Nepal visa (can obtain at the airport or immigration counters at the borders: USD 25 for 15 days and USD 40 for 30 days and two passport size photographs is required).
Your international flight to and from Nepal.
Travel insurance (for helicopter evacuation if needed whilst trekking).
Personal expenses such as laundry, telephone, internet/e-mail, etc.
Bar and beverage bills.
Tips for guide, porter, driver.
Info
Recommended Gear Lists:
Good wind/rain jacket
Warm fleece jacket or jersey
Good boots, either light-weight trekking boots or light full leather boots
Good -20 Sleeping bag (which can be rented or buy in Kathmandu)
A comfortable day pack, preferably with a waistband.
Fleece jacket or pullover
Fleece Wind-Stopper jacket (optional)
Waterproof (preferably breathable fabric) shell jacket
Down vest and/or jacket (optional)
Lightweight gloves
Heavyweight gloves or mittens with a waterproof shell outer
Sun hat or scarf
Light balaclava or warm fleece hat
Sunglasses with UV protection
T-shirts
Underwear
Hiking shorts
Lightweight cotton long pants
Light and expedition weight thermal bottom
Fleece or wool pants
Waterproof (preferably breathable fabric) shell pants
Thin, lightweight inner socks
Thick, warm wool hiking socks
Hiking boots with spare laces
Camp shoes (sneakers and/or sandals)
Other necessary equipment:
Headlamp (e.g. Petzl Zoom) with spare bulbs and batteries
Small pad or combination lock-to-lock trek bag
Basic First Aid Kit (We also provide comprehensive first aid medical kit and Oxymeter)
Large plastic bags - for keeping items dry inside trek bag
Day pack (approximately 2500 to 3000 cubic inches)
Water bottles (2 bottles recommended)
Toiletries
Small wash towel
Note
All conditions stated in the itinerary are for the visitors who prefer full package programme. At the same time, we also serve you based on your choice. The selection of itineraries and the staff depends on your choice and financial procurement. We have options for any partial visit as per your requirement regarding your interest and financial condition.
Quick Fact of the Trip
Trip Duration : 17 days
Best Season : Spring & Autumn
Country : Nepal
Min Altitude : 2610 meter
Max Altitude : 5545 meter
Trip starts : Kathmandu
Trip ends : Kathmandu
Group size : Min - 1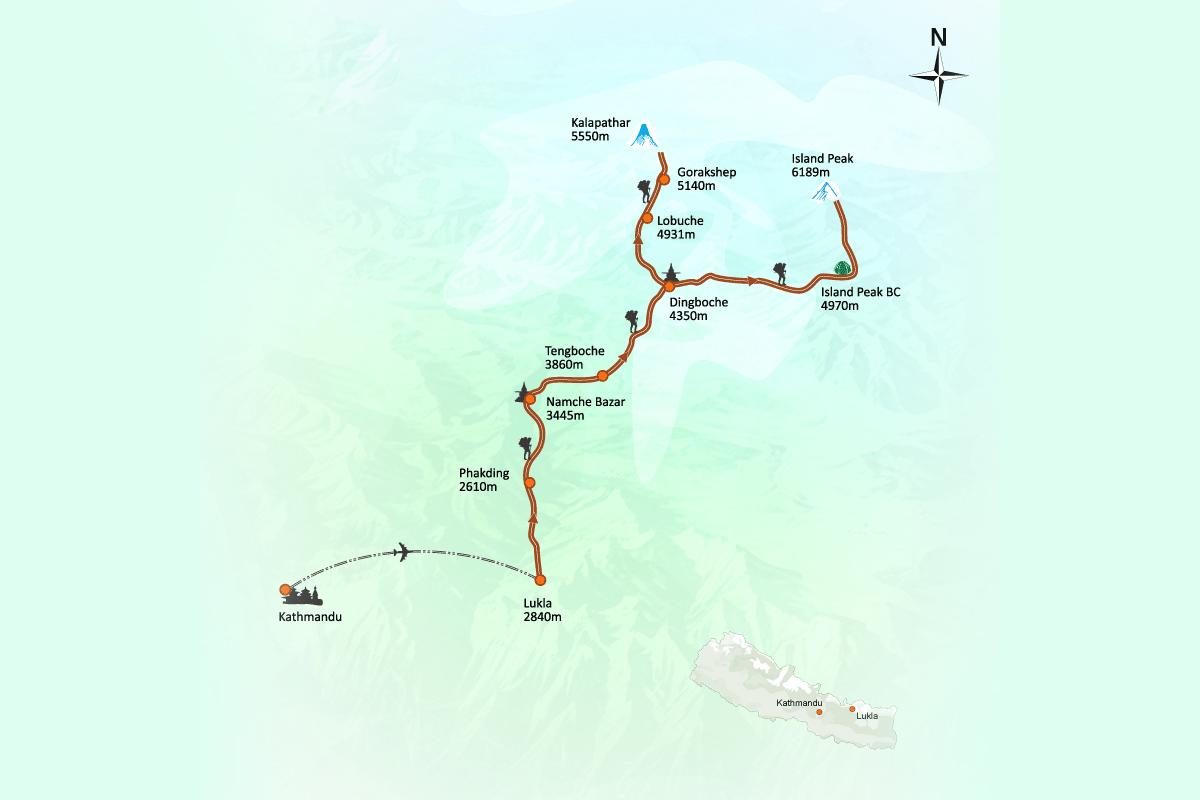 Your Travel guide
Trip by Locals connects travelers with local Travel Guide here you'll find all the essential information you need to plan the perfect trip.
Join the Similar Trip 2020