Lobuche East Peak Climbing Success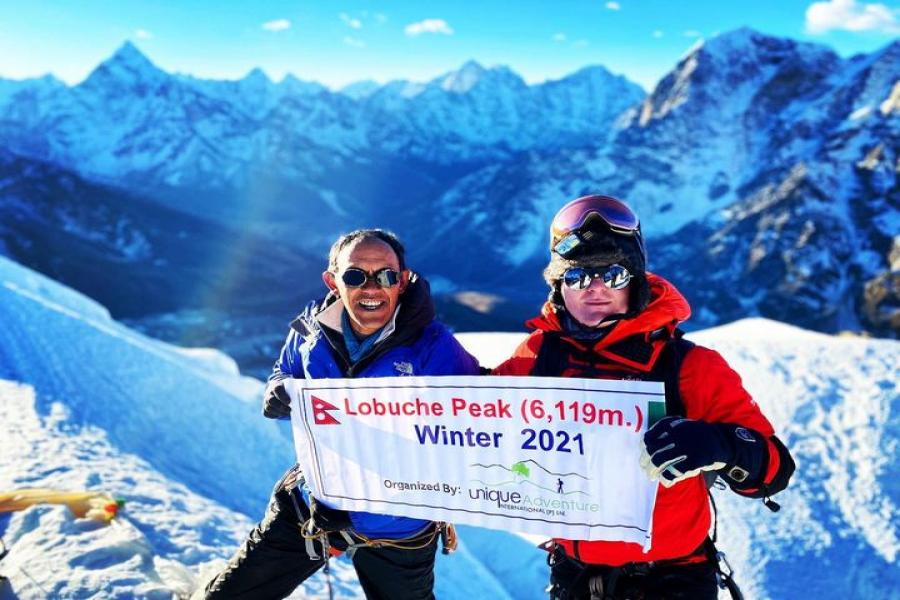 One of the most beautiful and adventurous peak climbing adventures in the Everest region, Lobuche East peak gets many climbers every climbing season. As an adventure trip to climb the 6000-meter mountain this season, we have a successful trip making to the summit. Let's read an account of Lobuche East Peak climbing success that our adventure team accomplished.
Lobuche East Peak Climbing is one of our popular climbing trips that we run in the Everest region of the Himalayas. The climbing adventure combined with a trekking trip to Everest base camp is an ideal trip if you are a novice climber.
Our Lobuche East Peak Climbing Success this winter
We had a small team of climbers heading to the Lobuche East peak this season. The team was leading our British Hungarian climbing client Marton Peter Price to the peak. As we always have the priority to serve the best, we had our 23 times Everest summiteer, Pasang Dawa Sherpa, as the lead guide.
Although climbing a mountain is certainly an adventure involving challenges and risks, it becomes much easier when you are with a veteran climber like Pasang.
The team was heading for the peak climbing in the cold month of December as our winter climbing adventure trip. Despite the challenges that come during the climbing adventure in winter season, the team made it to the top of the Lobuche East peak successfully.
They first headed to the Everest base camp and Kalapatthar as part of the trekking and later, went for the peak climbing. It was not only a successful climbing trip but also an incredible adventure experience for our client. He was a happy adventurer after making it to the summit efficiently.
Although a small team due to the current situation worldwide, we operated the trip with the same zeal and more enthusiasm and excitement. The same passion of operating adventure trip in the mountains helped us achieve success to reach the top of Lobuche East peak this winter.
Let us know if you want to know more about trekking and climbing adventure in Nepal.