'TIHAR'' in Nepal: when Good conquers evil in a Lovely colorful blast of lights and fireworks…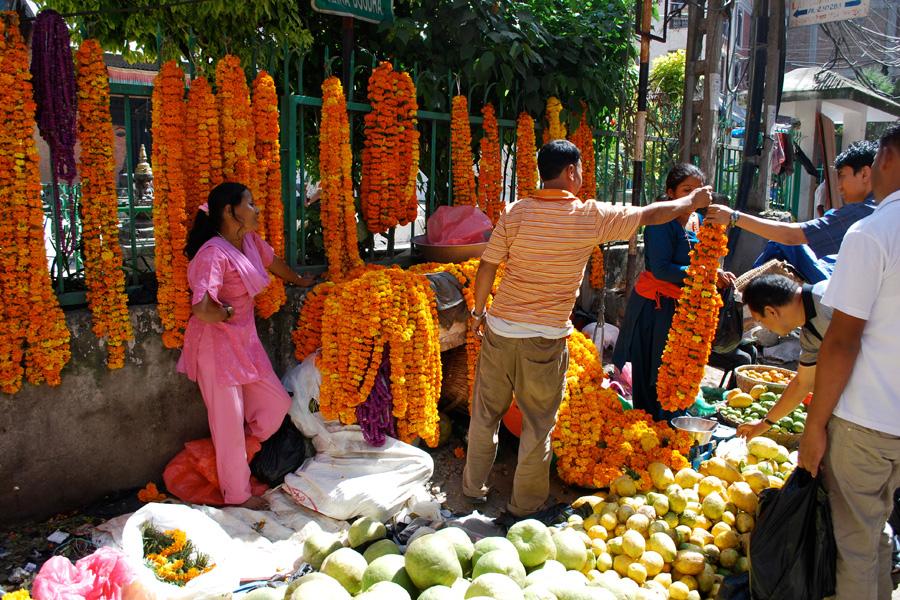 "Tihar" is a time that most people enjoy. Popularly called "Deepawali" or Festival of Lights, this festival and its psychedelic illumination tends to rev up the emotions of people throughout the Asian sub-continents. Perhaps, the nicest part of this occasion is it occurs during a wonderful climate we all know as 'autumn', a most pleasant time of the year we all love. The sparkling blue skies and the stunning clear views of the mountains all add to the nostalgic combo...it's a lovely time...read on to know why:
Greetings from the Himalayan state of Nepal! Festivals are enjoyed every other day in this highly mountainous country, but today it's a ''biggie'' - a follow-up to the biggest that was recently enjoyed with the festival of ''Dasain''. ''TIHAR'' or Deepawali [festival of lights] actually began yesterday. It starts with worship of the black crow, which may remind you of the jibe ''stone the crows!'' - Oops! Not on this day. Crows or ''kag'' in the local jargon are worshiped on rooftops throughout the land. Garlanding them would be near impossible, but the locals put delicacies on steel platters & leave them on the roof for this otherwise very ''cunning'' bird to relish. Hindus superstitiously believe this raven to be the ''messenger of death'' and on any other day, locals folks could sometimes be seen hush-hushing the crows away with the supposition that this bodes bad tidings. However, during this festival, its a big day for them crows who interestingly seem to look forward to it year in year out; on other days they can be found around houses scrounging for scraps & sometimes getting on the nerves of local folks for breaking their rooftop flower pots or messing up freshly washed clothes hung up on the roof to dry...nevertheless, today is also a special day for one of mankind's most loyal pals - ''DOGS'' - who are also worshiped today in a ritual called ''kukur puja''. In a country where animals are slaughtered in their thousands for different occasions, dogs seem to be better off than most other animals in Nepal, especially those in services with the police forces & the Nepalese army. Dogs can be seen freaking out when garlanded & offered delicacies but sometimes look bewildered when they are stoned barely a few hours after being worshiped. However, in recent times, most Nepalese have begun adopting these loving animals by paying handsome prices for them in pet shops in ancient Kathmandu which can be observed springing up all over the capital city. Everywhere throughout the country, our doggie friends can be seen with red vermilion powder splattered on the center of their heads and daffodil garlands strung around the neck…& they sure look loved, for however long it lasts...
The 2nd day is probably the most enjoyed day of the Hindu festival of 'Tihar' [festival of lights]. Folks draw different colorful patterns on the floor of living rooms or courtyards using materials such as colored rice, dry flour, and colored sand or flower petals outside of their houses, called 'Rangoli', this also includes imagined footprints which are meant to be a sacred welcoming area for the Gods and Goddesses of Hinduism, primarily Goddess Laxmi.
The morning of the 3rd day is 'Gai Tihar' (worship of the cow). In ancient times people benefited a lot from the cow. Its milk, dung, even urine have been used for purposes like purification. Consequently, on this day people show their gratefulness to the cow by garlanding and feeding them with fresh grass. Houses are cleaned and doorways and windows are decorated with garlands made of sayapatri (marigolds) and makhamali - purple (Gomphrena globosa) flowers.
Some folks would even swear that cows are seen smiling on this special day when they are worshiped as Hindus believe cows signify prosperity & wealth, but on other days which can be anytime of the year, when these holy cows stop giving milk, are set free from a kind of reckless bondage, causing havoc on the streets of medieval Kathmandu; where they are seen scavenging in Kathmandu's never ending garbage strewn carelessly on the streets & sometimes even found injured badly from traffic accidents, becoming a major challenge for municipalities throughout the country.
In the evening Laxmi, the goddess of wealth is thanked for all the benefits that were bestowed on families by lighting oil lamps (Diyo) or candles on doorways and windows to welcome prosperity and the hopes of a good year. At night, the girls enjoy dancing and visiting all the houses of the neighborhood with musical instruments singing and dancing known as 'Bhailo' all night long while collecting money as tips from houses and share the bounty amongst themselves.
On this day tihar is also celebrated as 'Deusi and Bhailo' [a form of carol singing] with lights and fireworks. Deusi is mostly sung by the boys while Bhailo is sung by the girls. Deusi is balladic and tells the story of the festival, with one person narrating and the rest in chorus. In return, home owners give them money, fruit and 'selroti' (a Nepali roundel made of rice flour and sugar) for singing wishes to their future prosperity. These days, social workers, politicians, and young people visit local homes, sing these songs, and collect funds for welfare and social activities.
This wonderful 'Festival of Lights' is wrapped up at home in a loving ritual when sisters put the auspicious 'Tika' on the forehead of brothers in return for gifts and money from their brothers and then chat up mischievous memories of merry times gone by amid the sharing of delicious sweet meats, meat and other delicacies.
Nepal, being one of the poorest countries in South Asia and ranking twelfth among the poorest countries on the planet; most Nepalese will know that even on a special occasion like 'Tihar'', in a country where shady politics are pandemic & unstable governments run by visionless politicians rule the day; compounded with off/on economic blockades & the vagaries of nature, Nepal will require more than the goddess Laxmi to deliver its people from an ailing economy and the dregs of dismal poverty that have plagued this beautiful Himalayan nation for decades…
When you visit Nepal, Unique Adventure International will guide you around the ancient valley where you will get the opportunity to visit some Nepali homes to enjoy upfront how this most popular festival is celebrated, giving you unforgettable experiences never to be forgotten.