Rafting the Karnali Corridor…Aqua thrills of an exceptional kind…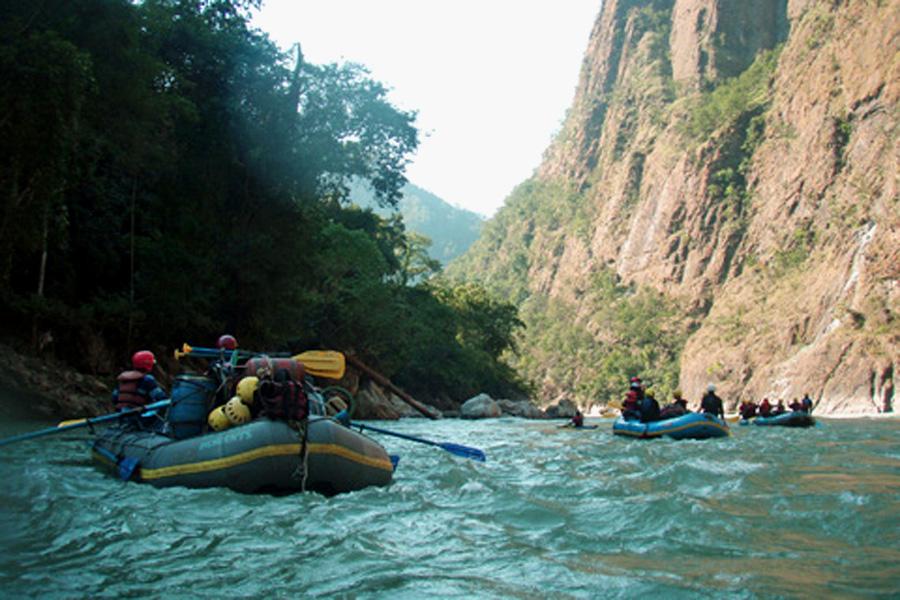 There are some places on planet earth that are simply unavoidable and unforgettable which not only results in cherished memories [and/or the joys of receiving your fresh laundry!], but also teaches us so much about life. Nepal's Karnali region, ideally placed in the Midwestern part of Nepal, is one such place.
There's so much to do in the 'Karnali Corridor', however, what strikes out most is the sacred river corridor of the Karnali region which flows through Tibet, Nepal and its confluence with the Ganges River in India. This is why the Karnali River is known to be the longest river in Nepal, living up to its reputation for being one of the best places in the world for rafting, with excellent river odysseys ranging from steep, adrenaline charged mountain streams to epic big time water wilderness combos.
For travelers who thrive for living life on the edge, rafting on the Karnali River would be your best experience to wander out of your comfort zone. And experience nature talking to you!
Rafting down the Karnali offers some real heart-beating white water with the experience of a journey that will appeal to your sense of a true long river trip. On the way your eyes feast on some of the most immaculate jungle landscapes with plenty of mind blowing wildlife. You get more time on the river at a relaxed pace to develop some great relationships with fellow rafters and relish river moments that ingrain memories in your heart for a lifetime. Perhaps, what's most unusual for tourists rafting down the Karnali River are the exciting interactions with village communities living throughout the river corridor, we get to learn of their traditional livelihood while listening to their spicy stories, and this adds another dimension to the great adventure of rafting down the Karnali River, a water journey in a league of its own.
Karnali has been an underrated destination for too long. Visit the Karnali region in 2020 for extraordinary lifetime experiences in a stunning journey of discovering the unknown from the known.
Unique Adventure International P. Ltd, in tandem with the Nepal Tourism Board [NTB], wishes to promote this extraordinary region to all its loyal clients in the run-up to the Visit Nepal Year [VNY – 2020] campaign for its much undiscovered beauty and natural ecosystems.